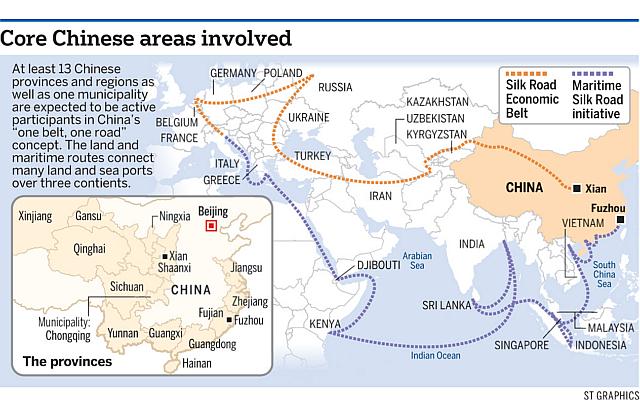 Since taking office in 2014, China's President Xi Jinping has been hyperactive: Domestically, Xi has made his mark by an unprecedented and controversial crackdown on corruption and the creation of a personality cult not seen since the days of Mao. On the foreign policy front, one of priorities has been the revival of China's links to the rest of the Eurasian continent through the construction of so-called "silk roads". An increasingly common short-hand for his vision is "One Belt, One Road", referred to in the Chinese media simply as "OBOR". It alludes to overland "economic belts" and "maritime roads" that reach all the way to Europe.
Xi's OBOR initiative serves a dual purpose. Domestically, he hopes that better transport links will promote growth in underdeveloped central and western regions such as Xinjiang, Gansu Province, Ningxia, Guangxi and Yunnan Province. That would not only boost overall GDP, but also reduce regional economic inequality, and thus migration into the coastal areas, a trend that may contribute to social tension. An economic boom in Xinjiang is also seen as the best way to combat the rise of Islamic extremism in the region.
Xi's Pivot to Eurasia
From a foreign policy perspective, the most immediate goal of the OBOR initiative is to boost China's influence in Central Asia, a resource-rich region that no longer falls into Moscow's orbit. As a growing number of countries becomes dependent on Chinese transport and energy infrastructure, stronger economic ties will make it increasingly costly for Central Asian governments to oppose China.
Different from the ancient Silk Road, which mainly focused on trade, the "One Belt and One Road" could also include the flow of financial services, information, technology and people. China will involve its neighbors in a series of institutional setups - such as the Asian Infrastructure Investment Bank (AIIB), the CICA security architecture, and corridors through Pakistan and Myanmar to the Indian Ocean that may, in the medium term, contribute to the creation of a increasingly sinocentric Asia.
According to China's Foreign Minister Wang Yi, 2015 is crucial in promoting and carrying out the "Belt and Road" initiatives:
China's development of a new-type of international relations in 2015 will focus on interacting with neighboring countries, including China-Japan-South Korea trilateral cooperation, North Korea, India and members of the Association of Southeast Asian Nations, said Liu Jiangyong, vice director of the Modern International Relations Institute at Tsinghua University. "The 'Belt and Road' initiative will not only focus on infrastructure to physically connect [these countries], but also to explore free trade agreements.
Train connections from Chongqing to Duisburg (Germany) and Yiwu to Madrid are now a reality and have dramatically reduced transport times, but their economic impact will be limited to expensive goods. While trains now take a mere 2 weeks between China and Europe, they can only carry several hundred containers. A large ship, by contrast, can carry several thousand containers at a third of the cost. Bureaucratic hurdles at border crossings and different track standards further complicate train transports, even though China hopes to reduce such difficulties. In addition to the "economic belt", Xi Jinping therefore envisages a "maritime road" from China's Quanzhou in Fujian province to Europe, via the Malacca Strait, Kuala Lumpur, Sri Lanka, Nairobi and Djibouti.
Western analysts often point out that China is likely to encounter strong resistance to its plan to strengthen connectivity both on land and sea. Among others, resurgent Russia and a more ambitious India are supposedly eager to block Beijing's schemes. While such a possibility indeed exists, Chinese roads and ports are more likely to be welcomed with open arms by those who rightly see them as a chance to boost economic development. Considering that China is the world's second largest economy and no.1 trading partner of many countries around the world, anti-China sentiment is still remarkably limited. As long as China assures that others interpret OBOR as a win-win situation, China's pivot to Eurasia will cement, not undermine, China's regional leadership claims.
Oliver Stuenkel