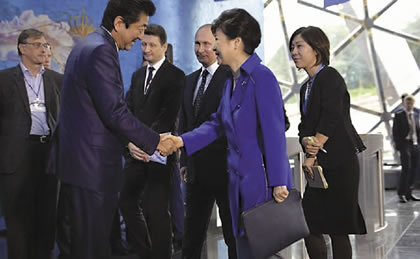 This editorial was written for the German newspaper Neue Solidarität of Sept. 15.
By Helga Zepp-LaRouche,
chairwoman of the German political party, Civil Rights Movement Solidarity (BüSo)
A strategic transformation has taken place in the past two weeks—although unnoticed or deliberately suppressed by the mass media in Germany—that at long last gives rise to the justifiable hope that positive solutions for the most serious problems of our time will be found. A series of summits in Vladivostok, Beijing, and Vientiane has brought about a complete reorientation of the relations among the majority of nations in the world. This new strategic situation gives us here in Germany both the opportunity and the challenge to productively achieve the economic and cultural potential of our country .
At the Eastern Economic Forum in Vladivostok, on September 2-3, the integration of the Eurasian Economic Union and China's "One Belt, One Road" initiative was advanced. That is a huge step toward a potential common economic space from the Atlantic to the Pacific. Japanese Prime Minister Shinzo Abe spoke for the 3,000 participants of the conference in emphasizing the intention to develop the Russian Far East as an export hub for the entire Asia-Pacific region.