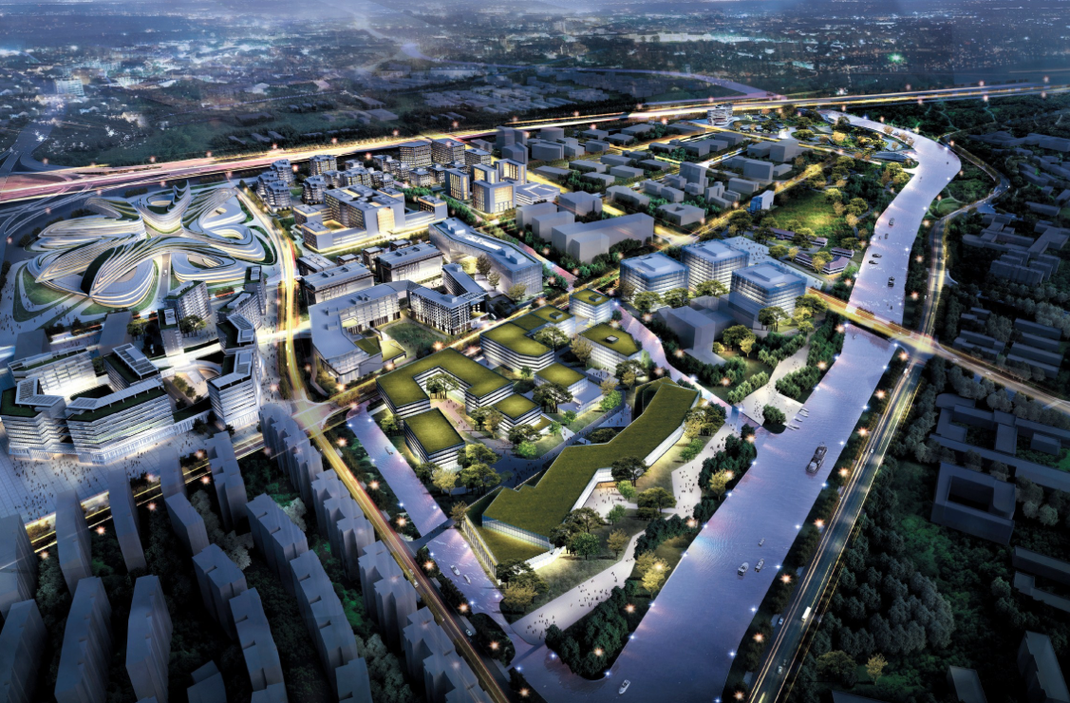 THE Linkong Economic Zone in Changning has been earmarked as a key area for the development of the aviation and Internet-plus-life service industries, in accordance with the district's 13th five-year-plan.
The 5.14 square-kilometer economic zone in western Changning is already home to a cluster of professional, technological and financial service firms.
After more than two decades of development, the zone has fostered a mature investment environment for both domestic and overseas enterprises and is a cornerstone in Changning's development blueprint.
The nearby Hongqiao Transportation Hub connects Linkong with the rest of Shanghai, as well as key destinations across China and East Asia. Access to transportation has helped the area integrate with the global economy and regional value chains.
More than 2,000 companies already have a presence in the zone, including 10 Forbes Global 500 firms.
High-flying future
According to the latest development blueprint for Changning, district policy makers have tipped the economic zone adjacent to Hongqiao International Airport for a key role in the development of aviation services, already a pillar of the local economy.
The Hongqiao Aviation Service Pilot Zone has been established around Linkong and the east wing of the Hongqiao airport to provide services such as aircraft repairs and sales, air transport, air freight and air ticket distribution.
The pilot zone houses 493 aviation and logistics companies. Another 59 enterprises are expected to move in within the year, said Chen Hong, vice director of Linkong's general office.
In the first half of the year, aviation and logistics companies in Changning generated 4.78 billion yuan (US$724 billion) in tax revenue, up 17.4 percent from a year ago, Chen added.
Changning has also applied to the National Development and Reform Commission to upgrade Linkong to an airport economic demonstration zone, Chen said.
Changning has planned to develop Linkong into a base for aviation services to attract higher value-added links in the aviation industry chain. At the same time, the development of aviation services and related businesses is expected to enrich the stature and structure of the local shipping and aviation industries.
Linkong is seen as a gateway to the Yangtze Delta — a key region to implement national strategic plans for a Yangtze River Economic Belt, "One Belt One Road" as well as Yangtze Delta integration.
During the period of 12th five-year-plan (2010-2015), Linkong contributed 16.92 billion yuan) in tax revenue, with an average year-on-year growth rate of 16.6 percent.
Promising ventures
Apart from the aviation service industry, Linkong is also a national e-commerce demonstration base where industry leaders like Ctrip.com are headquartered.
Internet-plus-life service businesses in the zone contributed 537 million yuan in tax revenue in the first half of the year, up 91.7 percent year-on-year.
One notable aviation organization in Linkong is Sky Safari. Headquartered in the zone, Sky Safari is the first general aviation training institution in Shanghai and is equipped with ground training simulators. It also offers services related to aviation planning, aircraft leasing and sales, aircraft repairs and maintenance. Its fleet of training and recreational aircraft includes a Cessna 172, Robinson R44 and Bell 407.
A local Internet-plus-life service company in the zone is Cloudwave, a pioneer in the virtual reality industry. It focuses on VR content production, online VR platform construction and VR tool development.
As planners, designers, and developers, Cloudwave can also guide its consumers and partners to discover new business opportunities on its powerful, user-friendly VR platform. The platform is intended to help developers create, edit, publish and share original content with the world.
Meanwhile, app magazine "One" based in Linkong has attracted 30 million registered readers. It became the top free app in Apple App Store within 24 hours after its issuance three years ago. Its offline book sales have soared over 2 million. Published by renowned writer and blogger Han Han, the app offers "one painting, one story, one Q&A and one item" everyday.
By Li Xinran