PHILIPPINE infrastructure projects funded by China through the One Belt, One Road (OBOR) Initiative are expected to help "normalize" the bilateral relationship, HSBC Ltd.'s Philippine unit said in a statement.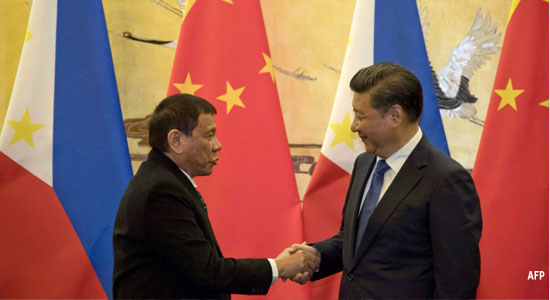 "With the Philippines chairing ASEAN in 2017, the Duterte administration will be in a good position to build up and normalize its relationship with China faster," HSBC Philippines said.
"This is the perfect time for the implementation of such an initiative. The Duterte Administration's foreign policy pivot toward China gives a big push to its own Philippine Development Plan (PDP) as it puts together plans, reforms, policies, and targets to build a more sustainable economy," HSBC said.
While the Philippines has yet to join Malaysia, Thailand, Laos and Indonesia in OBOR deals with China, the country has already begun to firm up relations with the world's second-largest economy, attracting the interest of potential Chinese investors.
With the government ramping up its the infrastructure spending target to P8.2 trillion or 5.2% of the gross domestic product (GDP) over the next six years, HSBC sees OBOR as an opportunity for the Philippines to improve infrastructure, bilateral trade and tourism.
HSBC also sees the initiative as an opportunity for the country to lower poverty rates and develop social services.
China has established three new financial institutions to help fund the infrastructure goals of OBOR. These are the Asian Infrastructure Investment Banks (AIIB), the New Development Banks (NDB) and the Silk Road Fund (SRF).
According to HSBC, AIIB's assistance "allows the Philippine economy to gain from its participation in the bank" and will allow linkages in the financial sector to develop as more "bankable projects" are mapped out.
OBOR seks to re-establish China's traditional economic influence along the land-based Silk Route to the Mediterranean Sea as well as with longtime maritime trading partners in Asia.