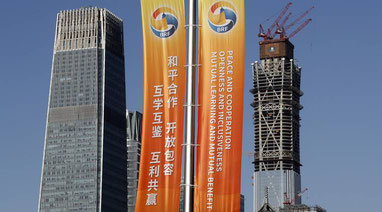 China will host the Belt and Road Forum (BRF) over two days starting May 14 in Beijing where high-level delegations, including 29 Heads of State, will gather to discuss President Xi Jingping's ambitious strategy and accelerate the pace of its implementation. China's One Belt One Road (OBOR) strategy envisions an overland Silk Road Economic Belt and the 21st Century Maritime Silk Road to foster trade and enter new markets.
What is the Belt and the Road?
The strategy aims to connect Asia, Europe and Africa, particularly the developing East Asia economic circle at one end and developed European economic regions at the other. The Belt refers to the Silk Road Economic Belt which comprises three overland routes: connecting China, Central Asia, Russia and Europe; linking China with the Persian Gulf and the Mediterranean Sea through Central Asia and West Asia; and connecting China with Southeast Asia, South Asia and the Indian Ocean. The Road refers to the 21st century Maritime Silk Road designed to push trade from China's coast to Europe through the South China Sea and the Indian Ocean in one route, and from China's coast through the South China Sea to the South Pacific in the other.
Why is OBOR so important for China?
While the BRF will host 29 Heads of State and over 100 ministerial-level officials to increase international cooperation, the OBOR policy itself is aimed at boosting domestic growth in China which has slipped in recent years. Experts maintain that OBOR is China's blueprint for economic diplomacy, and its strategy to begin a second phase of 'opening up'. Experts also believe China felt "isolated", considering it is not involved with G7, and is limited to the BRICS countries. They say China needed another window to continue its economic expansion, and OBOR fits the bill.
What changed for China to adopt a new strategy?
This year, China cut its GDP growth target to 6.5%, the lowest in 25 years. With a global slowdown, China needed a new model of development to maintain its spectacular economic success story. OBOR envisions largescale infrastructure creation in China and OBOR linked countries, which the government hopes will keep the economy ticking. There are two versions of OBOR — domestic and international. Experts pin the slowdown on changes in exports, investments and local consumption. A shift in US policy after Donald Trump's victory, and the rise of protectionist tendencies in the west, has resulted in shrinking markets, while investments in China have gradually reduced due to rising labour costs, increased traffic on roads, and air pollution and environment concerns. Experts also believe consumption in China has decreased with slower growth of the middle class. OBOR visualises a shift from developed markets in the west to developing economies in Asia, and a shift in China's development strategy itself — concentrating on provinces in central and western China instead of the developed east coast region.
How will it be implemented?
At its core, OBOR would need the eastern (developed) parts of China to trade with the US and developed countries, while the central and western provinces, which have witnessed minimal growth, will feed Asia's developing countries. However, a major roadblock for OBOR at present is the lack of infrastructure in South and Southeast Asia to foster trade. China hopes to work with interested countries and improve connectivity of their infrastructure construction plans and technical standard systems. OBOR also requires the construction of international trunk passageways and an infrastructure network connecting all sub-regions in Asia, and between Asia, Europe and Africa.
What is needed for OBOR to get going?
Zhao Kejin, Deputy Secretary General and Professor, Institute of Global Development, Tsinghua University, believes several countries along the Silk Road have not yet established a market economic system, and that their domestic markets need more regulation and infrastructure. "The railway, highway and pipeline capacity along the Silk Road also has to be improved, as do transport facilities," he said. Joining OBOR gives access to China's experience and expertise in building infrastructure and connectivity. "There are so many infrastructure companies in China that there is a sort of over-capacity. China wants to use this resource, and many developing countries will benefit from it," he said.
And what does OBOR mean domestically for China?
The Chinese government has dovetailed all major government policies with OBOR. The engines of OBOR are three economic circles in China: Guangdong, Macau and Hongkong; Beijing, Tianjin and Hebei, and Hunan province. China has adopted a two-pronged strategy domestically — a national policy and a city-level policy. OBOR is also shaped to for 'domestic readjustment' in China to shift the focus of development from the east coast provinces, which have benefited from the economic boom these last 25 years, to the central and western provinces.
What has China committed to OBOR?
It has committed a total of about $100 billion to three new infrastructure funds: a $ 40 billion fund to the Central Asia-focused Silk Road Fund, a $ 50 billion fund to a new Asian Infrastructure Investment Bank (AIIB) and a $ 10 billion fund to the BRICS-led New Development Bank.